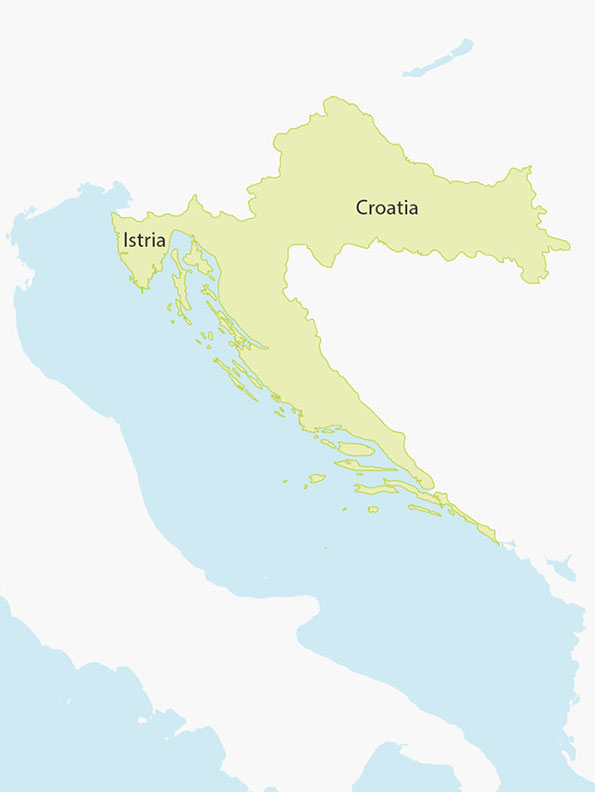 Lanterna Premium Campsite Resort is situated on the Lanterna peninsula, halfway between Poreč and Novigrad, on the western coast of Istria. This sunny region is beloved by its visitors because of its pleasant climate, marvellous coast with many bays, clear and gentle sea, its romantic old towns along the coast, rich gastronomical tradition, olive oil and wine production. Besides, the Istrian western coast is a stage for breath-taking sunsets, that turns from gold into thousands of shades of purple and violet. It is the continuous scent of the sea and pines, oak woods, light summer breeze and calming sounds of waves, crickets and seagulls. It's an emotion, that you'll pursue again and again.
If you've never visited Croatia, Istria is the best starting point, you will immediately love it. Istria is the biggest Croatian peninsula, beloved by travellers, as it is easy to reach and it offers any kind of scenario for your favourite holiday; family holiday, holiday with friends, holiday with toddlers, pool holiday, beach holiday, active holiday, cultural holiday… with a combination of pleasant surprises. Old uphill medieval towns with narrow streets and stone houses gathered together around churches and squares, or along the seaside. Vineyards, olive trees, stone walls and plenty of healthy Mediterranian food. On its western coast, Istria has maintained the romantic flair of its villages and surroundings, while creating myriads of campsites and family resorts, where you will find all the things you need for a perfect family holiday. And if you decide to explore the surrounding, you will be pleasantly surprised by the things to see and to do (link to sport and adventure)
In Poreč there is the Euphrasian Basilica built in 6th century, inscribed on the UNESCO World Heritage List. The Poreč seaside, riva, is particularly romantic in the evening, whit its many restaurants, bars and starry sky. During the summer in Poreč are held many events, concerts, sport competitions, marathons (also a recreational swimming marathon) and local festivities.
Lim fiord or Lim channel, is actually a spectacular 10 kilometres long bay with underwater sources of sweet water and 30 meters depth. Particularly suitably for seashell and fish farm, which you can see from the hill overlooking the bay, it offers also walking paths, caves to visit, and two restaurants.
Source: Tourist Board of Istrian County, for all info visit istra.hr
The whole area produces excellent wine and olive oil and therefore you will find many excellent restaurants and different wine roads. Along the streets you will also see many booths selling local products, fresh and healthy fruits and vegetables, all kind of brandies and liquors, honey and souvenirs. In the area there are also many supermarket and stores, shopping malls and small local shops, open till late in the evening. Many events find place here during the summer months, so if you decide to live your holiday to the fullest, Istria, Poreč and Lanterna are the best choice for you